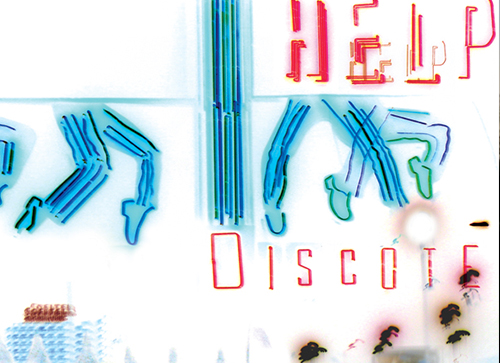 Sleepless nights [2006]
Noites em Claro (Sleepless Nights)  I, II, III and IV. Nightscapes from Copacabana, Botafogo, Santa Teresa and Lapa. Series of photomontages printed on PVC, 50 x 50cm. Trails, reliefs and textures of Rio artificial lights and shadows in positive negative colors. 
"Your four images on the wall of the Botequim, multiple images in the whites and blues, multiplied the Rio de Janeiros buried in my retinas. At home I sought, in my modest collection of Sugar Loafs, some scraps that you conceptualized. I cut and pasted, cut and pasted through my memory.
With my eyes closed, I remembered your chosen paths in those squares. One next to the other. My collection has been renewed.
Exhibitions do not always require experiences from us.
Only those that touch us."
Luiz Carlos P. F.
Exhibition
On the collective exhibition "VEJO O RIO DE JANEIRO: 4 pontos de vista foto/gráficos sobre a cidade" ("I SEE RIO DE JANEIRO: 4 photo/graphic points of view about the city", with Martha Gubernikoff, Ilana Bessler, Marcio Valgas Lobo e Moana Mayall: 4 pontos de vista "foto-gráficos" sobre a cidade.
Images