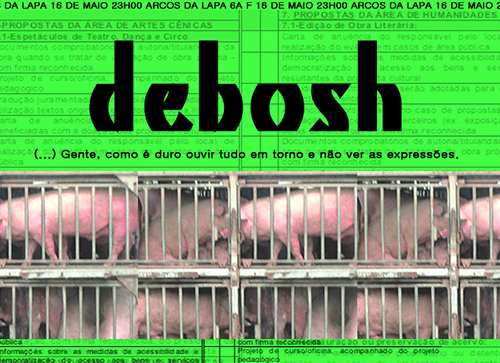 DEBOSH #Zero [2008]
"Counter-situation" to event "What a situation, huh, Débord"? (on the theme of Guy Débord and the Situationist movement started 50 years before in France). The event, funded by a bank (Banco do Brasil) would enable standard conditions and equipment for urban interventions in the center of Rio (Praça XV), developed by the participants of a workshop in the event's program. Due to sudden internal issues and budget limitations, the action was cancelled and we (three of the workshop participants) decided to carry on our intervention idea, totally independent from official authorisations, which actually made more sense than if we had the facilities provided by the institutional context. With the installation of a small projector and laptop with veejaying software, in a very popular bohemian district of Rio, a network of unusual collaborative meetings surrounding the projection was formed quickly and without any previous planning.
We decided to occupy one of the arches of traditional Lapa aqueduct. The initiative then revealed to us a temporary autonomous zone (TAZ)* in which we had to negotiate our territory of action with a certain informal facilitator- a man entitled "dono da boca", the "dealer in charge", or "king of the spot" for that specific day and time-, who welcomed us for some hours, extra-officially giving us permission and protection during the occupation. Some street sellers shared their clandestine sources of electricity, so that we could turn on and improvise our devices. All of them seemed rather amused to be filmed as part of the small "spectacle", while some street kids asked us to project their favourite loops again and again, which we gladly did.
On a typical Friday night in bohemian Lapa, on one of its busiest spots, we projected a live remix of TV series, reality shows, snapshots of social media,Paris May 68 archive images, taking turns with images we captured in our drifts around the city, and also the contrasts between luxury objects of our consumerist culture versus the creative precariousness of people living and working on the streets.
Commenting on Débord's book "Society of the Spectacle" and the current rhetorics of cultural production in Brazil, we showed institutional open call texts as graphic textures "framing" a sentence written by an unknown blind author: "Oh folks, how hard it is to listen to everybody around you and not see the expressions".
In partnership with the artists Inês Laborim (Portugal) and Ophelie d'Organs (France)
* The term Temporary Autonomous Zone (TAZ), coined by Hakim Bey, who prefers not to fully define it, referred to an experience where, ideally, participants temporarily release themselves from the constraints imposed by social conditioning and regulation; "An experiment in group immediacy; a creative event, where new codes of behaviour are established by those present."
Exhibition
Rua Joaquim Silva, Lapa, Rio
May 2008.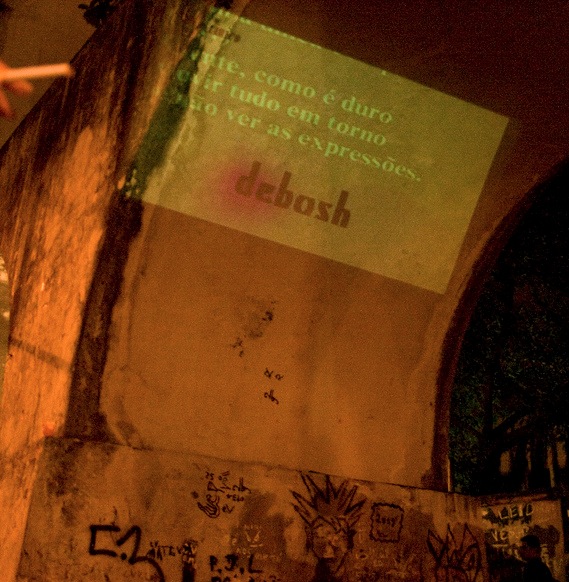 Manifesto  text
TO DEBOSH =
TO LIBERATE TO TEASE TO CURSE TO MAKE YOU DREAM
TO DISRUPT TO INVADE TO APPROACH
TO DEBOSH TO DISORDER TO WAKE UP
TO PROJECT TO PLAY TO DISTRACT TO REMIX
TO CRITICIZE
TO LIE TO CHOOSE TO ENTERTAIN
TO MIX TO RELEASE
TO WHISPER TO INTERPEL TO PRESTI-DIGITATE
TO VIGIATE TO FREAK OUT TO PROVOKE
TO HUMANIZE TO MONKEY-MAKE
TO INVOLVE TO REVOLVE TO STRETCH
debauchez moi!
debosh yourself!
debauch it ALL!
counter-situation
(t) (error) istic ("artistic") ally
against the cultural sabotage
of allegedly subversive pseudo-protests
and the irresistible inclination to its opposite :
the total de-relativized perversion!
against the boredom of the efficient technical data sheets
against the detournements of (fake) public money
against the syntax-disguise hierarchy of coolture discourses!
against the against the against!
art-nowadays:
experience of radical detachment
absolute freedom that seeks its own end in itself
and in its very foundation
that can not be measured in the vertigo
of its own amusing abyss
when defining the purée-haute-culture …
… SPY ON ME REMIXING THE MASHED UP POTATOES!
CAN DEBOSH BE SIGNED? …
Inês Laborim – Moana Mayall – Ophelie Dorgans … and whoever joins the adventure!
DEBOSHAR =
LIBERTAR TROÇAR ZOMBAR FAZER SONHAR
CORROMPER DEVASSAR ABORDAR
DEBOCHAR PÓS DÈBORDAR ACORDAR
PROJETAR TOCAR DISTRAIR REMIXAR
CRITICAR AMAR ENGANAR DISSECAR GRITAR
MENTIR ESCOLHER ENTRETER
MISTURAR DESPACHAR
SUSSURRAR INTERPELAR PRESTIDIGITAR
VIGIAR DELIRAR CAUSAR
HUMANIZAR MACAQUEAR
INVOLUIR REVOLVER ESPREGUIÇAR
debauchez moi !
debosh yourself !
debocha disso TUDO!
contra-situação
(t)(error)istic("artiscamente") mente
contra a sabotagem cultural
dos pseudo-protestos- supostamente-subversivos
e a inclinação irresistível até o seu contrário:
a perversão total des-relativizada!
contra o tédio edital das fichas técnicas eficazes
contra os detournements da (falsa) grana pública
contra a hierarquia da sintaxe-disfarce dos discursos da cooltura!
contra o contra o contra!
arte-nowadays:
experiência de desapego radical
absoluta liberdade que procura em si seu próprio fim
e seu próprio fundamento
que não se pode medir na vertigem
do seu própio abismo (di)vertido
ao definir a purée-haute-culture…
…SPY ON ME REMIXING THE MASHED UP POTATOES!
DEBOSH SE ASSINA?…
Inês Laborim – Moana Mayall – Ophelie Dorgans … e quem chegar mais!