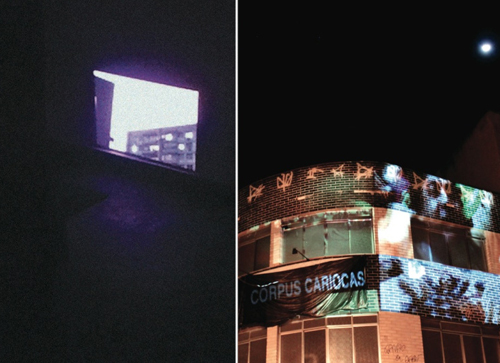 Continuum/ Discontinuum [2012]
A videoinstallation occupies the more confined room of the gallery (the old safe), while the videointervention is outside, on Riachuelo Street, downtown Rio de Janeiro.
Thunder (Relâmpago)
In some pagan mythologies, lightning is the sex intercourse between heaven and earth: a seminal projection of discontinuous light revealing images, darkness' desire to become daylight. The work consists of a minimum size projection of a video, placed where the wall skirting board meets the floor. The image produces flashes throughout the dark room area. A small collection of decelerated instants, in which the light and the sound of lightning persist as a continuum, an urge for eternity.
Corpus Cariocas
Outside the gallery, on top of a bakery on the corner on the opposite side of the street, we see a gym, closed for construction at the time. On its facade, the original sign covered with black plastic is projected with the fictitious name "Corpus Cariocas". The video intervention then proposes another type of body workout, through images from the artist's personal archive, in an open transit through contemporary and past records of the city. Small and large crowds in protests and demonstrations through the streets and public spaces in downtown Rio. A series of "carioca bodies" in action, working their resistance in the midst of the precarious citizenship of daily life in the city.
Exhibition
O que te escolhe, te move e alcança o mundo (What chooses you, moves you and reaches the world)
Curator: Daniela Labra
Espaço Apis Gallery, Rio de Janeiro
August / September 2012
Curatorial text
The collective multimedia exhibition brings together artists from the critical research groups oriented by curator Daniela Labra in the last 2 years. The works presented reflect individual aesthetic practices and the way they can be placed in the world as art experiences. Considering the critical and poetic potential of the artistic object, the exhibition rescues the artist's notion of responsibility towards his/her creation, since art can only be effective in life if it is performed with enough care to be thought-provoking and purposeful. This exhibition refutes the dead form and the speeches that simulate vitality, when in fact there is no more art, and defends that it is the support that chooses the artist and defines his/her poetics.