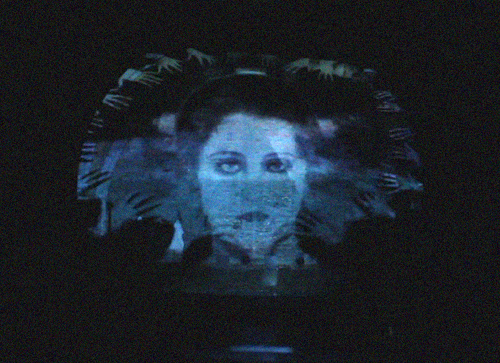 Ghost Cinema [ 2016]     
"Cine Fantasma (Ghost Cinema) is a videointervention and performance series that explores the way symbolic and material structures interlace themselves with urban landscapes. Through audiovisual collages projected on the surfaces and facades of buildings either abandoned or threatened to disappear, it searches for the significance and importance of the memory that constitutes a local identity. Instead of a nostalgic perspective, it explores the outputs of the montage and projection of images, not based on the spectacle or consumption logics, but on the notions of community and belonging." Paola Barreto (Cine Fantasma)
Live cinema as an experience of occupation and visual alchemy between the initiatory "black magic" from the first (black and white/ silent) movies, and the also phantasmagoric hiperpresence of moving images in our contemporary lives… It was a pleasure to share another Cine Fantasma (Ghost Cinema) ritual at Delphi, Berlin, and express my intimate approach to this "ethereal material". Reviving this old movie theatre with the "ghosts" from its own history also invokes the history we still write nowadays through image, movement and direct action for urgent transformations around the world. How do these images haunt us, and how does our imaginary haunt back these images? Moana Mayall (Vide Urbe)
About Ehemaliges Stummfilmkino Delphi, Berlin In the 1920's, Filmstadt Weißensee, in northern Berlin, was once the city's cultural hotspot. Stars like Marlene Dietrich and Fritz Lang were there, at Caligariplatz and on the Gustav-Adolf Straße, which at that time was lined with bright lights and 20 cinema houses. Among the finest and most popular of these was the former silent-movie theater Delphi. Direct on Caligariplatz, this relic rests like a hidden jewel, unrecognisable from the outside, and practically unknown to most Berliners.
The theater miraculously survived WWII, and remained closed during GDR times. This building was one of the first cinemas of its size in the world, and the original interior of this former 870 seat theater remains intact. It is one of the best remaining examples of the glamour and flair of this important cultural era- the heyday of German silent film.
Director: Paola Barreto
Videoperformance (video editing + live projections & mapping ): Moana Mayall
Parangotela performance: Camila Rhodi
Cine Fantasma + Parangotela in "Walking with Ghosts", 3-session-videoperformances at Ehemaliges Stummfilmkino Delphi, Berlin. May, 28th, 2016.