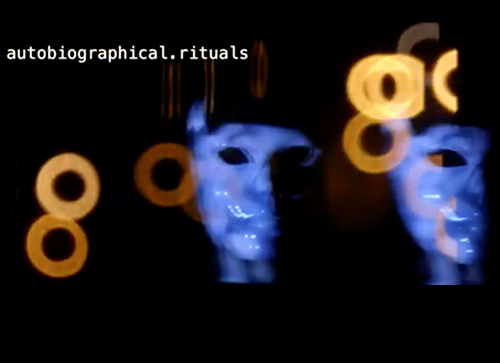 Autobiographical.Rituals > Transmediale/ Vorspiel [2017]
Whereas social and technological systems are strongly interlaced, our identities expand as an open network of connections, also subjected to surveillance and commercial exploitation. In the realm of digital content, the personal experience is always in danger of being captured, measured and controlled. However, there are always vanishing points through which life escapes, as a sensitive and singular experience in the world. One's identity is better described as flux, a continuous process, or, as Flusser said, "knots of relations"- once these knots are untied, there's no stable "core" to hold on to. In this sense, to share our life experience always means to activate "mutual intersections between social and inter-subjective fields".

How can autobiographical approaches collaborate in bringing about new formats, poetics and critical reflections within an unprecedented context of collective self-exposure? In the times of constantly developing artificial intelligence, what is the role of "the human" today?

"autobiographical.rituals" brings together artists from in and outside Greenhouse Berlin, with video screenings, multimedia installations, interactive objects and audiovisual performances reflecting on this theme, in the context of digital art and culture. Our specific program on experimental music and sound art will consist of 3 nights of live performances.
The exhibition "autobiographical.rituals" was part of Transmediale/CTM Vorspiel Festival in 2017, and took place at the 8th floor Gallery/ Berlin, from February 25th to March 3rd, 2017. An open call was launched by the curators, addressed to local and international artists.
Check our Exhibition and Live sessions' Program
Gallery 8th Floor Berlin
Works and Artists:
Secrets – Intimate archive in 3 parts [Ekaterina Craftsova]
Tender Drags [Iga Świeściak]
Smart user [Kuesti Fraun]
Translate Intimacy – Second Attempt [Marie-Pascale Hardy]
A portal experiment II [Moana Mayall]
Raving waves [Natalia Fentisova]
Neonthread [Enrika Myskovskaja & Inga Ivanova]
Untitled Improvisation [Linea & Damn Jar]
[Tringa & Platonic]
Home Calling Home Coming [Samin Sohn]
Codes: Origins [Ioan Human]
Her // Retrospective Dreams [Madelen Isa]
DJ [Tide 6000]
Live Music [ Andrea Monticciolo + Marcelo Vaz] and more..
Curatorship/ production: Moana Mayall and Natalia Fentisova
Blitzar media + Vide Urbe platform
Technical support/ design: Adenan Ahmad