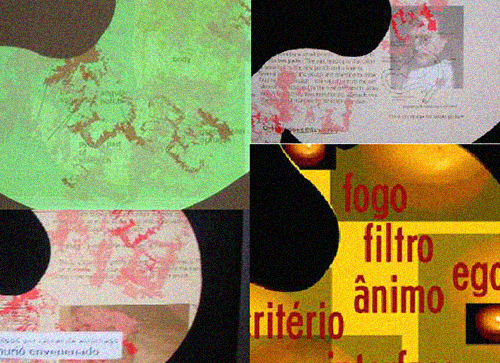 About             Exhibitions             Images             Media
ESTROMBO  is a colloquial way of saying "estômago" ("stomach", in Portuguese), "chewed" and digested in a popular manner, common in the countryside outskirts of Brazil. Estrombo, here, is a multimedia installation fed by images and texts captured on the web. It proposes a "pause" for reflection about how we digest the world, how the world digests us, and how we can explore it ("digest it") more consciously. Everything that is alive disintegrates so that it reintegrates itself into other life forms. A place for processing our senses, projections, the somatizations of our affections and imaginary: a networking organ.
The stomach transforms what was outside into what's inside the body, what is universal into what's particular, the food into the living being. It creates individuality and alterity. Another virtualisation of "stomach" is the concept of ego, its fire and excesses: the act of dilation giving space also to what we don't really need, being this related in many cultures as gluttony, greed and fear. Through this allegory, Estrombo shows images and words edited at high speed: a dynamic texture in combustion. In this "digestive chaos", all information loses its original shape: it fuses, clashes and rests on top of each other. What kind of filters and interfaces can we then build and rely on, to deal with the huge stream of information nowadays?
Estrombo not only intends to provoke the vision, the guts and the mind of the viewer, but also wills to be explored through digital interactivity, both online and offline.  Most of the information in this work was gathered by search engines. "Stomach" was the keyword that conducted the search online, processed in diverse contexts, such as medicine, art, mythology, personal diaries/ blogs …appropriated and redigested in the digital stomach. The interactive animation consists of fragments of images and texts related to "stomach" and the user may as well "grab" some of them for a longer gaze (as some frames are stopped by roll-over buttons).
The original soundtrack changes continuously, depending on how long the viewer's experience lasts. As the music takes longer than the image loop, the result is a "self-digestive" soundtrack. A second soundtrack was created by the artist Mary Fê.
Exhibitions 
Posição 2004 (Position 2004).Among the main objectives of Position 2004 we highlight the diffusion of the work of a significant number of young artists of today, the majority residing in the city of Rio de Janeiro, and the commemoration of the twentieth anniversary of Generation 80, the mark of the resumption of painting in Brazil as a means of hegemonic expression, an observable tendency, moreover, in the artistic production of the whole world during that decade. 
Curators: Anna Bella Geiger and Fernando Cocchiarale.
Organized and produced by the group of artists Eramos 3 (Ana Sarmento, Cristina Amiran, Gê Pinheiro, Khalil Charif and Marcelo Moraes), in partnership with EAV Parque Lage and the Association of Friends of EAV/ School of Visual Arts, Parque Lage. > see exhibition folder
Corpo e Virtualidade (Body and Virtuality), collective exhibition at Sociedade de Belas Artes Antônio Parreiras (Antonio Parreiras Society of Fine Arts ). Curators: Giodana Hollanda and Bia Amaral.March, 2004, Juiz de Fora, Minas Gerais, Brazil.
Corpo e Virtualidade (Body and Virtuality), collective exhibition at NAT/ EAV Gallery- Parque Lage  ( Art and Technology Node Gallery/  School of Visual Arts of Parque Lage.  Curators: Giodana Hollanda and Bia Amaral. November, 2003. Rio de Janeiro, Brazil.